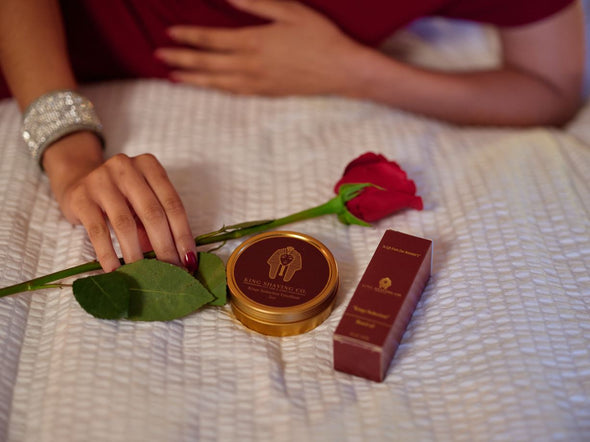 Want a healthy beard with a nice smell? We've got the best, natural, organic King Shaving Co. beard oil for men! It's time for a change. Your old shaver is doing the job, but not in the way you want. You've got scruff, and it is time to find a better option. That's when you discovered King Shaving Co.'s natural beard oil products. 

The Best Natural & Organic Beard Oil
King Shaving Co's beard oil is made with all-natural ingredients, and it's 100% organic! Our beard oil is suitable for all skin types and helps to improve skin, hair, and breath.
Healthy Beard Growth with Essential Oils
Try our beard oils with essential oils for a healthy, natural boost in growth. They are arguably the best men's beard oil. These oils are great for improving skin and hair health and your mood.
Discover The Best Smelling Beard Oil!
Our King Shaving Co. has the best smelling and healthy beard oil on the market today! This fragrance-rich blend comes in three great scents that you'll love.
Beard with Essential Oils
Try our beard essential oils for a clean and healthy boost in growth. These oils are great for improving skin and hair health and your mood. In addition, our organic beard balms are 100% vegan and cruelty-free!
Why should you choose King Shaving Co?
Our carefully crafted blends of essential oils and natural ingredients are not only the best quality available but also 100% natural. We don't use any synthetic chemicals, additives, or fillers, meaning you get an all-natural beard oil that's free from any harmful ingredients.
Natural beard oil
Beards are getting hot right now, but no one wants to worry about that kind of thing when they can be too busy looking dapper. That's why we created King Shaving Co.'s best tasting and smelling beard oils to help keep your beard fresh and healthy all day long.
Natural beard growth oil
If you're looking into growing your beard, our best natural hormone-free beard growth oil will help promote hair regrowth rapidly while also giving off a masculine scent that leaves every woman wanting more of your face.